On a recent rainy morning as we nursed a cappuccino, we mulled the possibilities for writing assignments. Industry news? Done. New product rumors? Done. Exciting features? Excitedly done. But test drive? Now that was a subject that we had not covered yet at Leith Inc. Authorized Mercedes-Benz Sales and Service, owing to several factors.
Belatedly we realized that the first month of 2014 had already passed without a single test drive review having been written, and as our coffee was practically finishing itself, and we found our schedules available, we walked down to drive some cars. During this week you will therefore see three test drive reviews, the first of which will be today's review of the 2014 Mercedes-Benz Sprinter Passenger Van.
To acquaint us with our chosen vehicle at Leith Inc. Authorized Mercedes-Benz Sales and Service, located on Capital Boulevard, we met with Eric S. Oliver, a six-year master-certified brand specialist. Eric is from Birmingham, Alabama, and has strong ties in Atlanta as well. From his years of working with Leith, and FedEx before that, he has an appreciation of personal and commercial vehicles across many different functions, environments and brands.
It was inspiring to see his knowledge of the Sprinters, Mercedes-Benz, Raleigh and even the region. As we talked about Sprinter vans and how you can see Mercedes-Benz values in their design and features, Eric usually had a recent example of how a person or event in Raleigh touched upon that particular feature. It was engaging to learn not only about the Sprinter van, but the Sprinter van in Raleigh, and it added a dimension to our experience that pleasantly surprised us.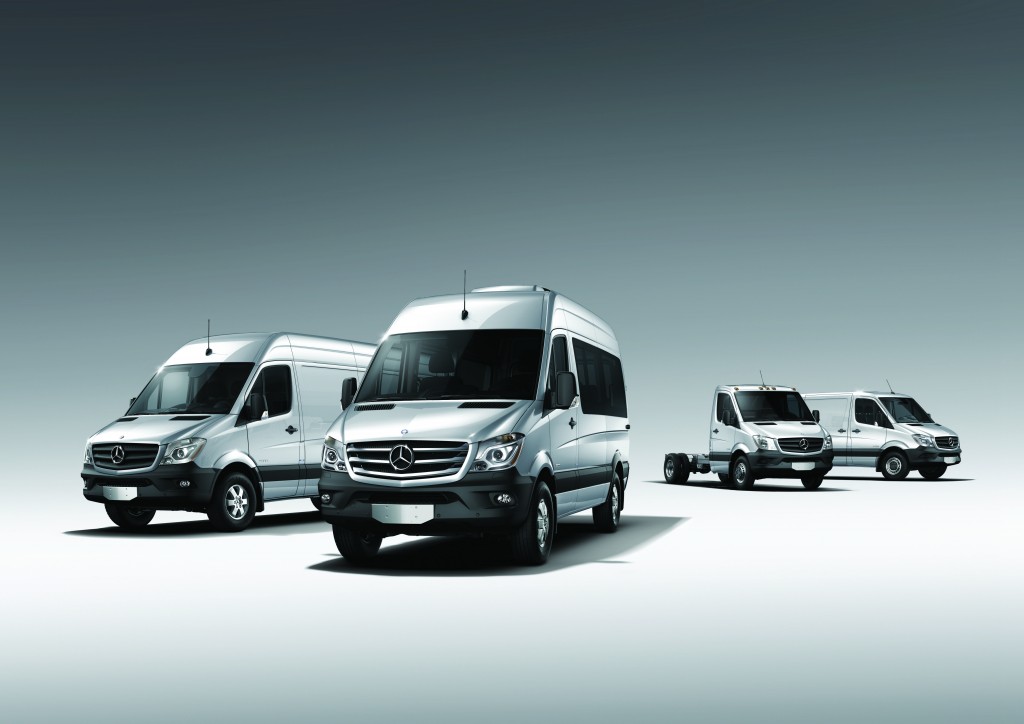 The number one message about Sprinter vehicles that we want to make at the outset of this review is that this is truly a vehicle for anyone with any set of driving needs. Prior to our appointment with Eric we primarily thought of the Sprinter as a commercial vehicle. What we realized is that, as a Mercedes-Benz vehicle, it has a level of versatility that qualifies it for any person or lifestyle. Personal, commercial, around town, across the country, to the beach, across the mountains, for one person or twelve, the Sprinter is adaptable for a variety of uses.
Now, onto our physical impressions of the Sprinter itself. The model we tested was the 2500 Passenger Van with a 144" wheelbase and high roof. There is also a 170" longbase version in either standard or high roof variations. Interior standing height with the standard roof is 65", but our high roof model adds another foot to that. This gave the interior a feeling of spaciousness unusual among Passenger vans, which made us feel quite at ease. Standing next to the van on the outside definitely gave you the feeling that this is an exceptionally tall vehicle.
From the outside it was also easy to note several helpful features. The climate control unit sits on the roof of the van itself, which makes sense given that its primary job is circulate air, either warm or cool. Eric also pointed out the Blind Spot Assist sensors in the side mirrors, which detect the presence of vehicles, pedestrians or objects next to you. This is an invaluable feature for a vehicle of such length, and made changing lanes once we were on the road a much more confident exercise. Golden triangles appear or flash whenever your adjacent areas are partially compromised, and the triangles turn crimson, accompanied by an audible note, when adjacent lanes are definitely obstructed.
At the front of the car was the sensor for Lane-Keeping Assist which operated with the same audible note warning system, but from a different perspective. LKA is designed to watch the movements of your driving, not other drivers. It watches the lane markers ahead of you so that if you drift into another lane without properly signaling, you hear an audible warning tone.
At the rear of the vehicle at the top of the armoire-like French doors overhangs a rear-view camera. This camera makes driving in reverse simple, thanks to a video screen up front. The screen transposes yellow lines onto the camera feed to show exactly how wide and long the Sprinter is. Line up into your spot and you'll have no need to worry about rear maneuvers. Also noticeable on the rear of the vehicle are black nubs near the taillights—these allow you to pin the rear doors back a full 270 degrees for easy loading. Tether hooks on the floor of the vehicle mean you can strap down any precious cargo and know that it will be secure for the trip.
Our 2500 Passenger model had three doors with massive windows that ran the length of the vehicle. Entry through the rear sliding door is encouraged, for drivers and passengers, because easier entry equals safer entry. Boarding a high roof model like ours was almost comically pleasant, for we found that stepping inside and closing the door didn't diminish our ability to stand completely upright. The four rows of seating certainly gave us plenty of options for where to sit, and the seats across all rows supported our backs and necks well. Individual over-the-shoulder seatbelts were omnipresent—no overextended connections of the walls here.
As we settled into our front two seats, a plethora of cubbyholes and cupholders were available in several ergonomically natural locations that neither crowded, nor made you strain to reach them. We found it was easy to store an iPad, a few books, our jackets, smartphones, dry cleaning tickets, oranges and candies, all without dumping things onto the floor or tossing them back onto a row of seats. Using the Sprinter's built-in Bluetooth® made switching between smartphones and tablets extremely fast, and we were impressed with the audio quality as the system played "Cyan" by Kindness from our iPhone while we drove.
Similarly, our address book was easily displayed on the Sprinter's display screen, and we made and received calls with no problems to a few accommodating, and thankfully unbusy, friends. We were impressed how Eric could speak at his softspoken level and still engage in conversation over the phone with a client while we waited. At a few moments we were tempted to suggest he speak a little louder, or surely shout in the direction of the microphone, but whether he laughed while looking out the window or revved the engine while on the highway, the person at the other end of the line had no trouble understanding him and carrying on a happy exchange.
One of the things we were not looking forward to was the whine of an undersized engine struggling to find its way to one of four gears as we pushed its limits to the redline. After all, this is a test drive, and a good test involves seeing how fast a vehicle can go, and how quickly it can get there. Thankfully, the Sprinter's seven-speed 7G-TRONIC® transmission offered us a tremendously capable experience. Power was always present without any of the typical high-revving protests of a motor that can't respond to the way any normal person drives. Seven gears made for less noise, fewer lurches, lower fuel consumption, and more efficient use of fuel, so we were very glad to see this system in place.
All that would mean nothing, of course, if the engine itself was an ill pairing. Sprinters use two-stage turbocharged BlueEfficiency diesel engines, unless you choose the optional V-6 with five-speed transmission. Our model had the BlueEfficiency variant, and we were pleased to find that the turbocharger produced plenty of torque to make good use of the transmission. In simpler terms, good acceleration is a product of torque, not horsepower, and turbochargers are good at providing torque. Although we were initially hesitant to turn into lanes or merge, we quickly found out how easy it was to drive the Sprinter like a much smaller car.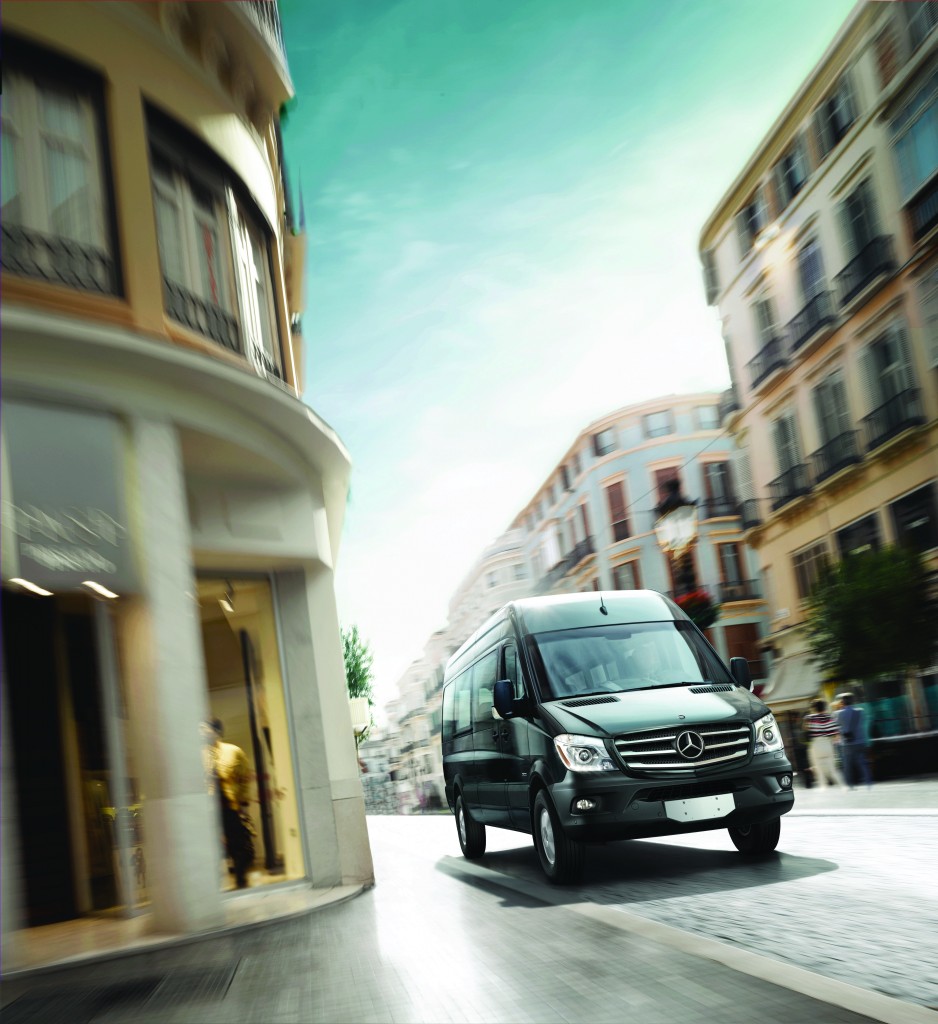 The short front hood gave excellent visibility—of course our high riding position helped with that—and handling never felt ponderous or lumbering. With a vehicle of this height, we were curious about the effects of cross-winds, particularly as the day was cloudy with somewhat frequent showers. The Lane-Keeping Assist would make it easy to detect, sure, but what if we wanted a little more reassurance?
Enter the Sprinter's traction control, officially known as Load-Adaptive Electronic Stability Program. In short, the vehicle's system dynamically monitors your wheels' contact with the road and provides stability to assist you. This explained why our ride felt so smooth on a day of less-than-ideal driving conditions, and why Eric says that he never turns the system off. Crosswind Assist is another optional feature that utilizes the above stability program to detect gusts of wind, and apply targeted braking to one side of the vehicle only. This enhances rigidity and helps keep the vehicle in its lane.
Overall, our impressions of the Sprinter were excellent. Our 144" 2500 Passenger model had plenty of safety features, technological conveniences, mechanical subtleties and quality furnishings to make it easy for us to see owning one for ourselves. But the most surprising aspect of the vehicle was how it made its size disappear once driving. The safety systems, handling, engine, transmission and body design integrated into a very simple driving experience, which, at the root of it, is what every vehicle is supposed to offer. We are immensely grateful to Eric Oliver and the rest of the staff at Leith Inc., Authorized Mercedes-Benz Sales and Service. who made this experience possible, and we would be happy to return any time. We candidly recommend.
2014 Sprinter Passenger 2500 Van Test Drive Review
was last modified:
April 20th, 2021
by