Editors' Note: We like small cars.
"The soul of America can sometimes be found in German cars."
-Addison Worthmire
The 2015 Mercedes-Benz GLA-Class is about as small an SUV as we can imagine. We're standing in front of it outside of Leith, Inc. – Authorized Mercedes-Benz Sales & Service on Capital Boulevard in Raleigh, NC. It doesn't stand nearly as high as we're expecting, having previously driven the M- and GLK-Classes. It's not quite a station wagon—which we would love—but it's pretty close. We can tell that we're going to like this car.
We're here because our boss wants us to drive it. Tough life. When we go to pick it up, the representative here asks us, "So you're going to be back in a couple of hours?" and we think he is joking. He is not. Instead, he hands over the key and says, "Enjoy yourselves!" We will.
Demand for the GLA is expected to be high in both China and the U.S., which would be easier for Mercedes-Benz to manage if they weren't on opposite sides of the globe. This small, compact SUV called a "crossover" is expected to be the most popular new type of vehicle in the immediate future. Crossovers offer the space and ride height of an SUV, while being much more economical in fuel consumption. This combination is exactly what Americans are jonesing for, and we can see why.
We're going to relay our experience driving the 2015 GLA-Class through three people we met. They are people whom we had never seen before, and chanced alongside as we were out and about. Think of them as three microcosms, a composite of Raleigh.
Barista girl – Sola Coffee Cafe
It's about noon on Thursday and we are exulting in the freedom of driving this car. It has two sunroofs, one for the rear and one for the front, and we have the front one open. This is what Mercedes-Benz calls a "Panorama" roof, as it offers a massive pane of glass that can lift and retract backward over the rear panel. The two glass panels give the cabin an open, sunlit feel, and the connection to the outdoors is fantastic. That said, each roof also has a sheer, semi-transparent shade the color of desert sand if you need to dampen the sun's rays.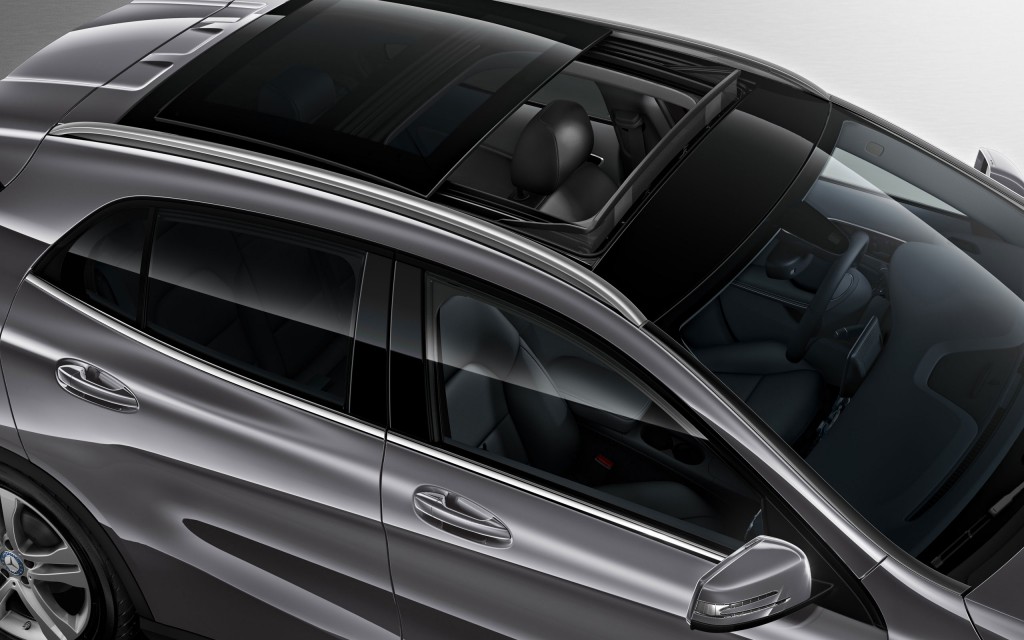 One of the most important functions of an SUV is its ability to hold a cup of coffee, so our first order of business is to procure a paper container of this hot liquid. While Starbucks is fine, this is a brand new, as-yet unreleased model, so we want something a bit more special. Enter Sola. It turns out the drive-up window is meant for orders that are called-ahead, but the barista is gracious and offers to fetch our drink anyway. It helps that we only want a little cream and sugar.
As we wait under the covered portico, the engine automatically shuts off to conserve fuel, even though we haven't put it in park or turned the key. This is part of the car's default eco mode. The girl hands over our drink, and we place it in the cupholder. Perfect fit. Nice and snug. No spillage. Gratifying. We ask her:
"What do you think of this car?"
"This car?"
"This car."
"What is it?"
"It's a new Mercedes-Benz SUV."
"What year is it?"
"Twenty-fifteen. It's new."
A pause as she cranes around to look toward its rear. It seems like her job to be positive.
"Oh yeah, I've seen some of those around. I like them."
Given that it's not being sold yet, we're not sure what she's seen, but we appreciate her enthusiasm. Oh well. On to the next one.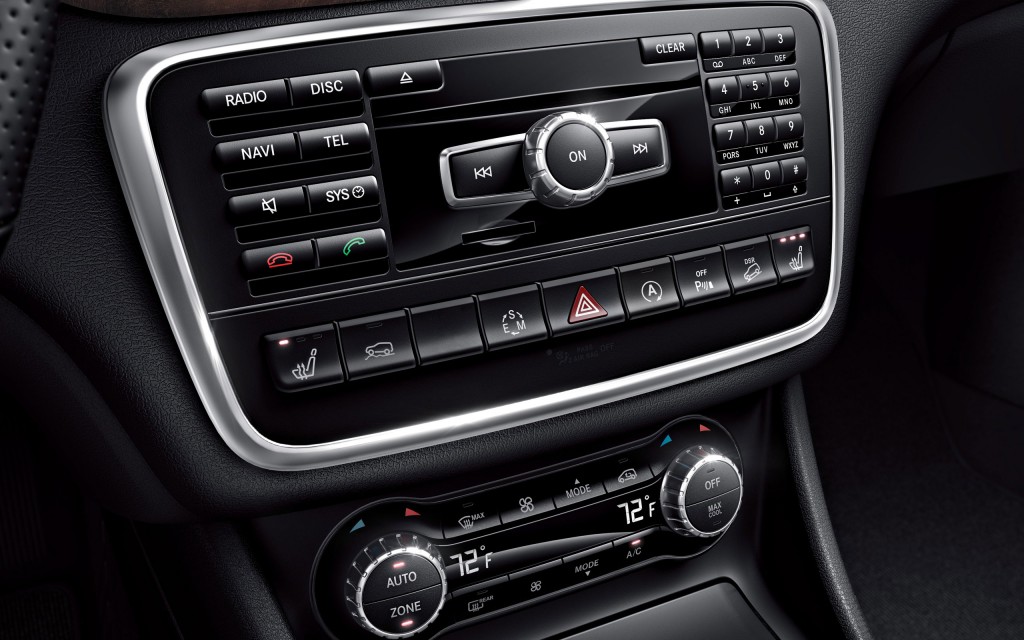 Guy in C300
This coffee is good. We can see that Sola is no insta-coffee chain slinging drinks out a window with a computerized label. Soon we are performing the SUV pose, driving with one hand while sipping coffee from the other, and the drive is good. In terms of steering, the GLA feels eminently in your control. The wheel can be manipulated by a very light exertion, and when we return to gripping it with both hands, we appreciate the perforated grip under our fingers. It feels both cool to the touch and pleasantly tactile.
As we stop at a light, we decide to ask the next person to pull alongside what they think of the GLA. Turns out we don't have long to wait. A man pulls up in a black, shiny new C300, its temporary tag from the dealer still on the back. What fate. As we might expect, his opinion is favorable.
"I considered it for myself; it's a good looking car."
He has a studied air as he holds a smoldering cigarette in his left hand and gestures toward our car. The GLA has similar DNA to the C-Class's younger sibling, the CLA. Despite this connection, however, the GLA isn't nearly as long as the CLA, shorter by a full seven inches. Losing that trunk space, however, gives you the freedom for a bit more headroom, as well as a much more attractive rear end. Dual exhaust tips, fat red tail lights and an all-glass rear top that curves on the edges, just like the new iPhone.
We must have been nodding at the right moments because he waves as he zooms off, cigarette still in hand, a gleaming black coach with silver letters on the back. Not a bad life either.
Woman in Miata
All this coffee and open-air music-blasting is making us feel a bit too chic, so as we hunt among the Sirius XM satellite radio stations, we pause when we hear Rage Against the Machine's cover of "Renegades of Funk." A brand-new Mercedes-Benz is probably not the environment RATM envisioned their song to be playing, but it sounds fantastic on the harmon/kardon® Logic 7® sound system. Soon our energy level is soaring as perfectly brewed caffeine takes us to new heights—we don't usually drink coffee; we're doing this for science.
A steering wheel's ability to double as bongo drums is crucial to our automotive research, and it turns out that the GLA's passed. Our hands are a pandemonium, a tempest, a force of musical fury that channels our connection to everything that needs to be reformed in America. We want change! We want difference! We want it now! We also want to ask someone else what they think of this car besides ourselves.
A woman with the skills to drive a manual transmission, silver Mazda Miata is perfect. As we tell her that this model isn't even out yet, that it's an advance drive, she offers all the trademarks of being impressed and lets her car into neutral so she can roll backward and get a better look.
"Wow!"
"Yeah, it's called a GLA."
"What is it called?"
"A GLA-Class."
"So cute! I want one!"
And she's off, changing gears with addicted form, bless her, making us feel good about our car and our life choices. This is right.
Conclusion
We want this car, too. A couple of things worth pointing out: the GLA comes with 4MATIC®, Mercedes-Benz's all-wheel drive, which gives the car excellent grip and better acceleration. It has a dual-clutch transmission which allows it to shift gears in fractions of a second, far faster than a human being could. When we turn off the eco-mode and floor it, 4MATIC® and the turbocharged engine give us strong acceleration, plenty of pep.
In the deserted parking lot of a church, we pop out to sit in the backseat and find it quite inviting. There are large symbols for where car seats should be attached, so it's clear whom Mercedes-Benz envisions buying this car. The carpet is unusually cushy and comfortable, something we notice since we do lots of test drives. The middle seat offers first-rate cup holders, too, in case rear passengers want something sophisticated to hold onto their sippy cups.
So we drive back. We could easily see owning this car. "Dreams" by The Cranberries comes on the radio, which is the most end-of-a-chapter song we can imagine—one of our favorites—and a marvelous way to end our drive. It's sporty, good-looking and has all the luxury touches that you expect of a Mercedes-Benz. The 2015 GLA-Class is a car we recommend.
Can It Latte? Test Drive Review of the 2015 GLA-Class in Raleigh, NC
was last modified:
March 10th, 2022
by